J. Putnam Stevens was born in Winthrop, Maine on November 24, 1852. He was appointed General Agent of the Massachusetts Mutual Life Insurance Company on September 1, 1887. Throughout his more than 46 years of service, he was intensely loyal to his fellow associates, to the industry and to his company.

He was a man of rare, enduring qualities and he will be remembered affectionately as "Put". Mr. Stevens was known throughout the entire industry. He was a prominent figure at annual insurance conventions which he attended without fail.
The J. Putnam Stevens Award is given to the person who has rendered outstanding service to their industry and community in the State of Maine. It is not intended to restrict the award only to agents and/or advisors, but rather to recognize those people, even outside the industry, who have advanced the cause of the life insurance profession.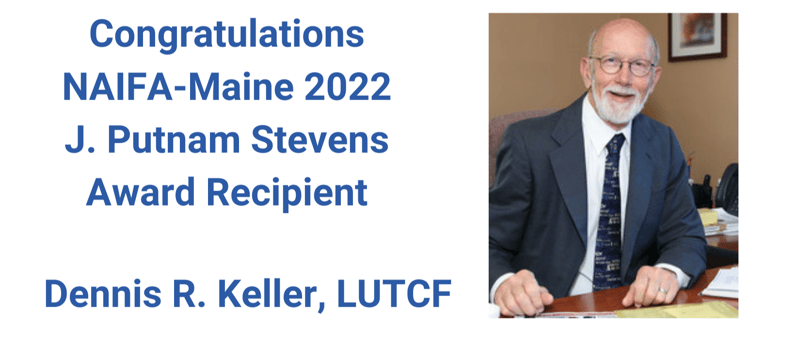 Dennis has been in the insurance industry with State Farm since 1985 and a member of NAIFA shortly after that. He has achieved many awards and milestones with State Farm including, Chairman's Circle, Honor Club (for 36 consecutive years), Mutual Fund Leader, and Zone Senior Vice-President Club. He has mentored countless State Farm agents over the years, and it is often remarked that he is a great humanitarian.
Dennis would do anything for anybody, anytime with no strings attached. As he enters the next chapter of his life, retirement, NAIFA-Maine wishes Dennis and Miriam, his wife of 56 years, the very best.