J. Putnam Stevens was born in Winthrop, Maine on November 24, 1852. He was appointed General Agent of the Massachusetts Mutual Life Insurance Company on September 1, 1887. Throughout his more than 46 years of service, he was intensely loyal to his fellow associates, to the industry and to his company.

He was a man of rare, enduring qualities and he will be remembered affectionately as "Put". Mr. Stevens was known throughout the entire industry. He was a prominent figure at annual insurance conventions which he attended without fail.
The J. Putnam Stevens Award is given to the person who has rendered outstanding service to their industry and community in the State of Maine. It is not intended to restrict the award only to agents and/or advisors, but rather to recognize those people, even outside the industry, who have advanced the cause of the life insurance profession.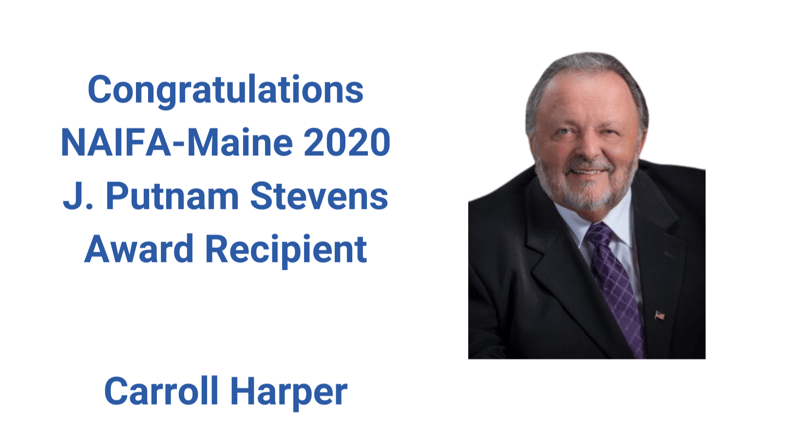 Carroll has been in the insurance industry since 1975, focusing on the senior market; 47 years making a difference in the lives of Maine citizens. He has co-authored four books focusing on Medicare, Medicaid, and Long Term Care. He has generously donated his time and expertise to perform long term care policy analysis for various law firms around the state.
What makes him extraordinary is his devotion to seniors and their families. For Carroll, it is a calling. A significant number of brokers, approximately 40, who might otherwise be considered competitors, turn to Carroll for assistance with selling senior products, especially Medicare Advantage and Long Term Care Insurance.